Blizzard Confirms That Overwatch Character Has Autism
Game Director for Overwatch, Jeff Kaplan, officially confirmed recently that Symmetra has autism
The Overwatch lore is incredibly deep and for players that keep up with it there has long been the notion that Symmetra may stand out amongst the crowd as having a very interesting backstory. Blizzard recently officially confirmed that Symmetra is actually autistic while replying to a letter from a fan. This newest confirmation and peek into the canon of Overwatch is rather intriguing and certainly something we can celebrate as fans.
It has long been speculated that Symmetra was on the autistic spectrum. If you had ever noticed in the official comic, more specifically A Better World, she ends up saying "Asking where I fit on the spectrum, it used to bother me. Because I knew it was true. It doesn't bother me anymore. Because I can do things nobody else can do." That spectrum fans deduced was the autistic spectrum. While this was speculated for some time, it was officially confirmed as of recently as Game Director of Overwatch, Jeffrey Kaplan wrote a letter to a fan describing a little bit more in detail the condition: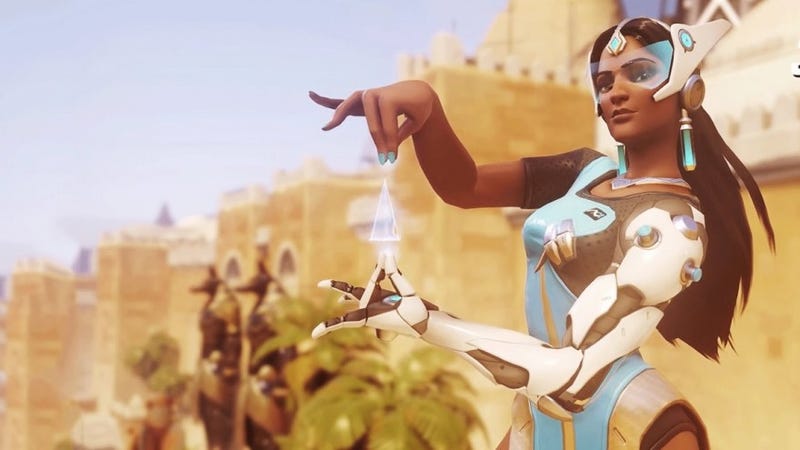 "I am so glad Overwatch is providing a great way for you and your bother to bond! Nothing warms our hearts more than hearing stories like yours.
I'm glad you asked about Symmetra. It was very astute of you to notice that she mentioned the spectrum in our comic. Symmetra is autistic. She is one of our most beloved heroes and we think she does a great job of representing how awesome someone with autism can be.
Thank you so much for taking the time to write to me. I really enjoyed your letter and will share it with the rest of the team."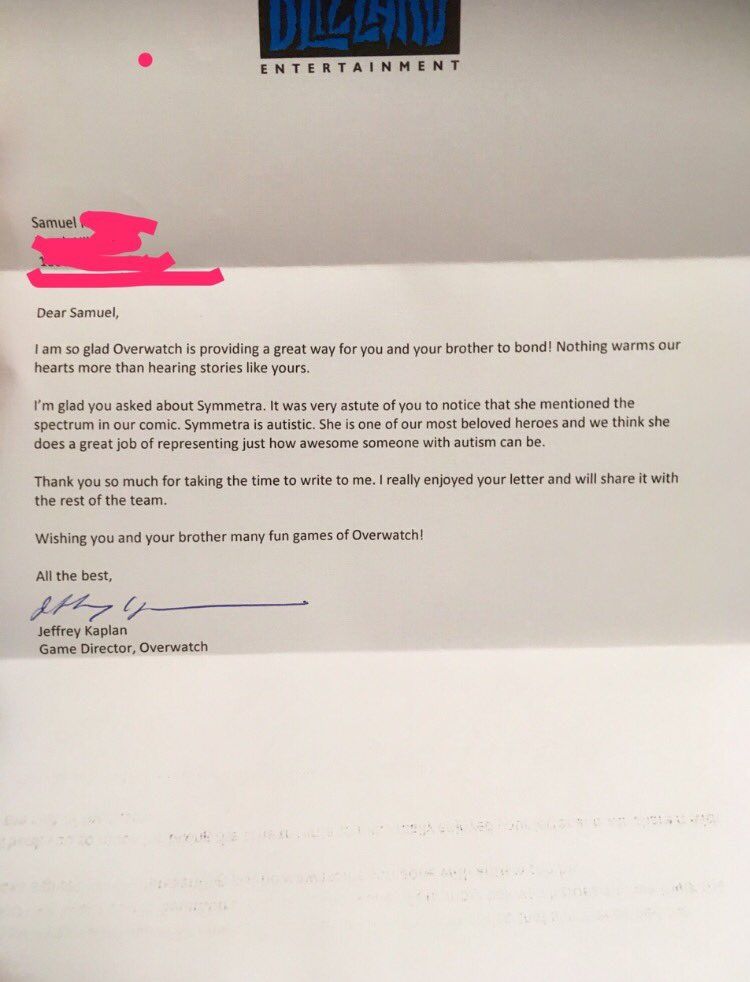 Plain as day, the game director himself confirmed the fan theories that have wandered around the gaming world for quite some time now. This is actually great, though. Blizzard has been doing a fantastic job at setting up not only the entire backstories of every single hero in game, but also setting up a diverse world and universe within the canon and lore of Overwatch. With so much time spent on detail, it is very cool to see a development team focus on an area of personality that many people may not think to incorporate. They do this all while empowering the diversity model and proving that despite being on the spectrum, anyone can be simply amazing.
This isn't the first time that we've seen an interesting character trait thrown about by the Blizzard team, and more than likely will not be the last. A few months back it was confirmed that Tracer is actually lesbian, once again detailed within the official Overwatch comic. While this was considered a bold move, it can also be looked at in the same sense that this is a great move to diversify the Overwatch universe and gaming industry as a whole.
Where this will take us in the future, who knows. There is a brand new hero coming and many more could potentially come in the future as we know there are a lot of interesting hints in the canon and lore of Overwatch. Something many fans are looking forward to is Doomfist and his long awaited arrival in game. So with that said, there's plenty of room for more heroes and even more room for intriguing backstories that fit into the universe of Overwatch.
The universe is wide open and players certainly can look forward to even more interesting pieces of character information in the coming future. As for now, we'd love to hear your thoughts on the confirmation of Symmetra being on the autistic spectrum having finally been confirmed by Game Director, Jeffrey Kaplan.